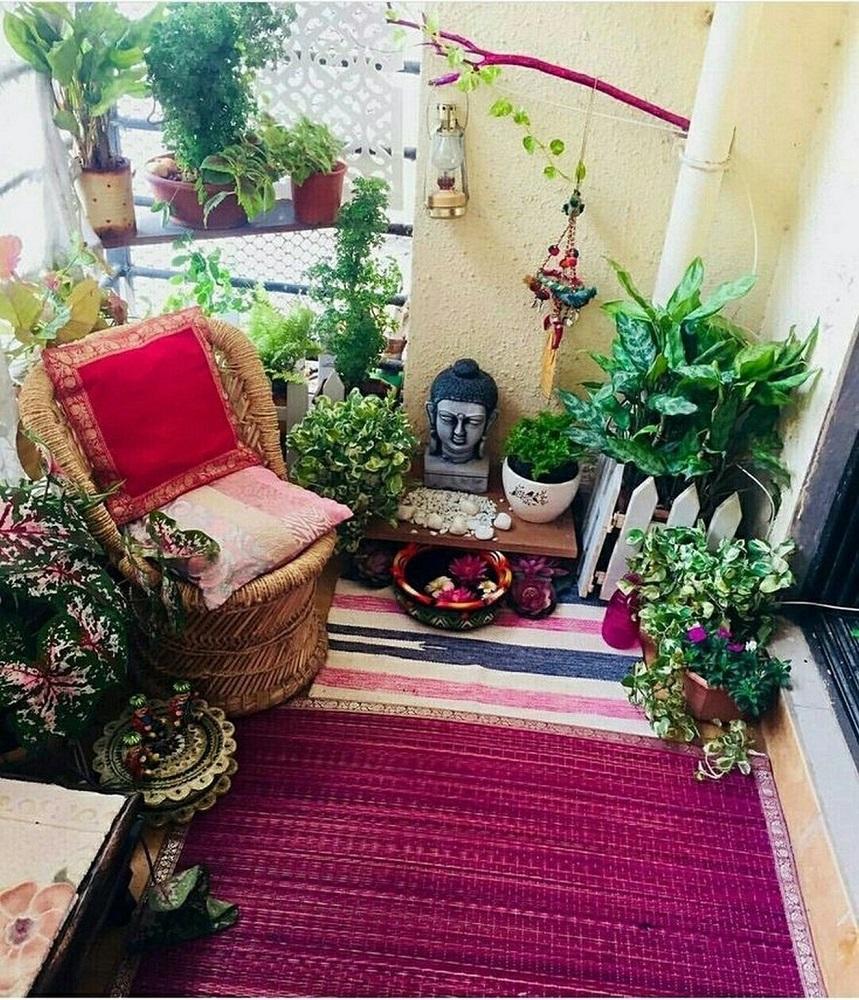 Having a sprawling outdoor space has become a distant dream with most of the people living in apartments. But what do you have when it comes to the outdoor space- A Balcony! It is one of the most ignorant parts of your abode as most people use it to get their wet clothes dried up. But believe me, it can become the most beautiful outdoor hangout space by applying some innovative ideas.
There are so many ways in which you can creatively style your compact balcony and beautify it that reflects your style statement. Sharing with you some creative ways to Amp up the balcony.
Creative Ideas to decorate your balcony
1. Use a lot of wood
The combination of wood and some greens around can make your balcony aesthetically pleasing. A small bench, garden planters made of wood, or a wooden screen can be a good option to explore. But the idea would work great with you if you go for cedar or teak wood as it can hold out against high humidity and pests. Add a bright coloured cushion on the bench combined with some beautiful outdoor plants and set the right mood for your evening hangout.
2. Use Pottery and statues
Pottery and statues can elevate the style quotient of your balcony making it beautiful. You can go for potteries and statues as per the space available on the balcony. Keep in mind to use materials like stone, terracotta, or ceramic when opting for the statues or pots as it would add a rustic look to the whole area. Make sure the planters are fixed with saucers to avoid water from leaking up.
3. Bring in a lot of ottoman
You can add a style statement and a splash of bright colours by bringing in ottomans of different shapes and sizes. You can make a seating arrangement on the floor and add a lot of planters as the backdrop and add a little more drama by adding cushions of different shapes and colours.
4. Add a recliner
If you want to enjoy the cool breeze, soak up in the sun or enjoy your favourite book then a recliner can serve all your purpose. Feel comfortable with some extra pillows on your recliners. Add a small side table with a flower vase to keep your cup of coffee and enjoy the beautiful views around.
5. Flooring to enhance the look of your balcony
Wooden flooring or a combination of black and white flooring can do wonders for your balcony. It can decoration be a sight for your sore eyes. Having beautiful flooring take you halfway through in your décor' game. Add a chair with matching cushions and small side tables to enjoy the panoramic view outside.
6. A flash of lighting
The right lighting in your balcony can create a serene environment where you can have a great conversation with your pals or enjoy a candlelight dinner with your beloved. You can use the hanging lights or can go for the string lights that would make your balcony look charming in every possible way. You can also use candles to give it a more private feel. You can also add beautiful wall lights to the balcony to make it look mesmerizing.
7. Rugs on the balcony
You can lift your mood by adding a beautiful rug on your balcony floor. The right flooring looks beautiful and also enhance the look of the balcony. But while shopping for the rugs make sure that it is sturdy and durable. Go for the ones that require little maintenance and can resist water and spills. When it comes to design you can go for mixed patterns, neutral shades, stripes, a zig-zag pattern or an ethnic one.
8. Add a statement piece
You can attract the attention of the people by adding a statement piece to the balcony. A striped hammock to lie down and relax or a hanging chair to sit and enjoy the beauty of nature. The statement pieces not only elevate the look of the balcony but also bring the X-factor that is needed to make the space different and quirky.
9. Accentuate the walls
The balcony can look charming by accentuating the walls. You can add a bright colour to the wall by painting it in your favourite hue, hang beautiful handicraft items, use interesting wall planters to add new life to your walls. You can further extend your creative side by adding wall shelves and then decorating it with decors and small planters to make it look interesting. To make It more intriguing add trellis to the wall that comes in beautiful designs and hang the money plants on it. Another way to enhance the wall is by adding artificial grass cladding as some extra green can create the magic.
10. Add artificial grass
You can also make use of artificial grass on the floor to add more green to your balcony. It not only looks beautiful but also easy to maintain in the long run. The green grass gives the feel of the real grass and can serve as the perfect place to sit and enjoy.
Also read about:
Freestanding bathroom suites discover the perfect style for your home
How advantageous are these outdoor signs
From Curd to the Goodness of Raita