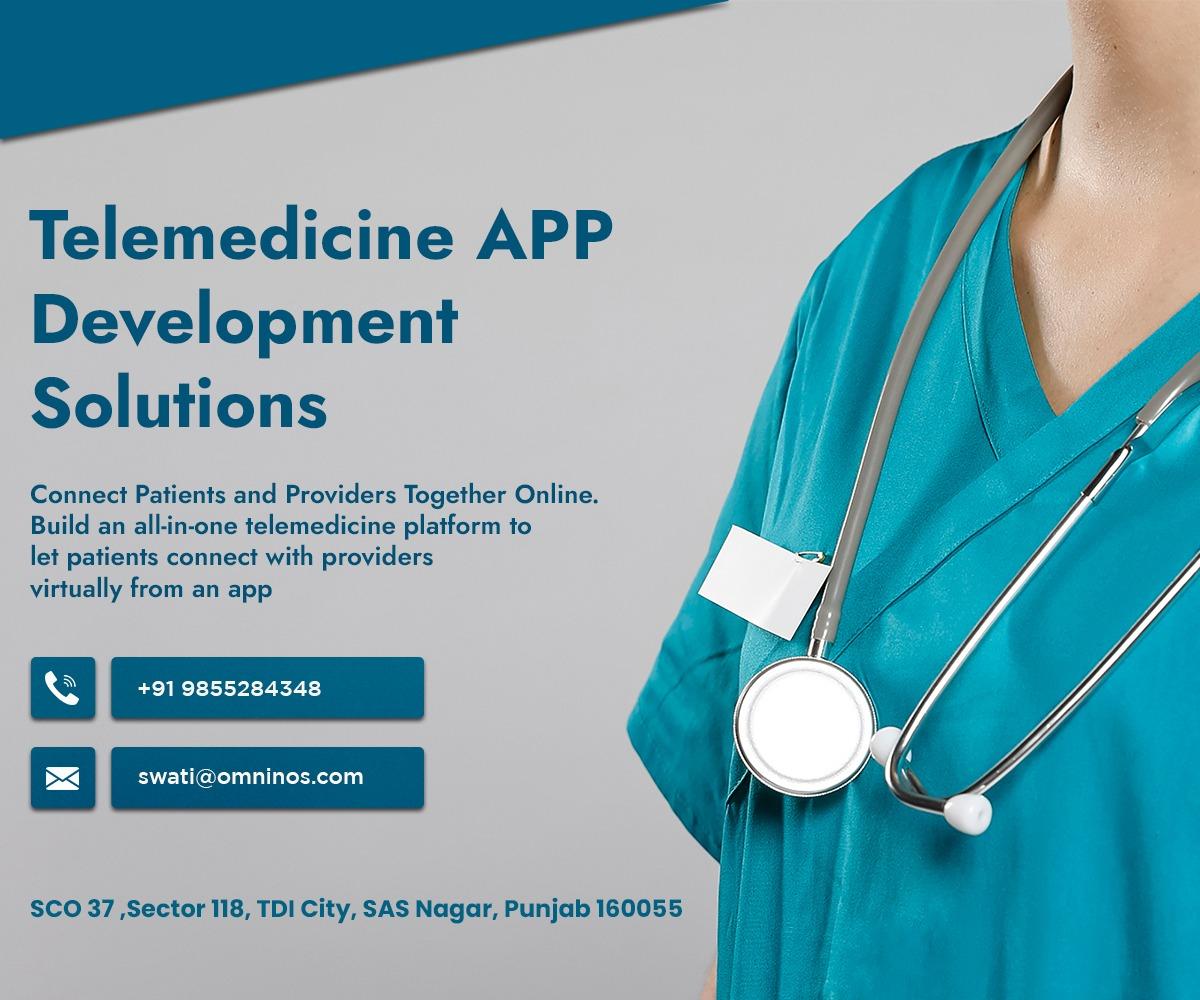 Many doctors and other specialists in healthcare are adopting out the latest technology to deliver fast help to patients via a variety of means - from the more mundane tasks of online appointment setting to cyber visits and patient consulting done via mobile apps, throughout to web portals which permit audio-visual communication to even the remotest parts of the world where the diagnosis of diseases or injury surgery is being carried out. Connections that can save lives and we're proud that Telemedicine Software Development Solutions can play a part in that process.
Telemedicine is an evolving segment within the healthcare industry. The telehealth applications allow people to book doctor appointments online, offline, schedule virtual consultations, receive medical assistance instantly, etc. Doctors also are finding these solutions accessible as they will extend their medical support remotely from anywhere, without the necessity for physical presence.
Telemedicine or the remote diagnosis and treatment of patients is completed using telecommunications because of the primary mode of interaction. Patients can access and seek expert medical aid with doctors remotely, while medics can provide prescriptions faster. At an equivalent time, it leads to savings because it cuts down the necessity to travel for treatment. Telemedicine APP Development Company respects the fact that Telemedicine is a boon for patients who want access to good healthcare or specialized consultation from distant places. In urban areas, doctors and patients are often too busy to ascertain physically one another regularly, but can nevertheless interact on a spread of medical issues through mobile devices.
Get your hands on highly customizable software filled with cutting-edge features tailored to maximize user-friendliness. Start with our ready-made Telemedicine solution for your Hospital company in just 48 hours.
Exclusive Telemedicine APP Features
Convenient Appointment Booking
The users can schedule the appointment at a convenient time slot supported by symptoms or doctor specialty, and as per the availability of the doctors.
Easy Access to Appointment History
Users can see the consultation booking history details and prescription. Users can also download prescriptions.
Upcoming Appointments
Users will easily see their booked appointment details as doctor name, date, time, total charges, payment status, and symptoms. Users will also get the reminder by the notification for the upcoming appointments on the registered email id.
Notifications
Users will receive notifications for the booked appointments, rescheduled appointments, shared prescriptions, and follow up appointments
Doctor Profile
Users can easily view the doctor's profile details like specialty, subspecialty, degree, clinic address, charges for consultations, availability, and ratings.
Securely Upload Health Reports
Users can securely upload existing medical reports and health records with the doctors to facilitate better health assessment during the consultation.
Telemedicine APP Development Cost
It is necessary to gauge the telemedicine platform cost itself, also to allocate the allowed app promotion and distribution. The cost of telemedicine app development greatly depends on its concept, functionality, the event approaches, and therefore the chosen development vendor. When working with an offshore Mobile APP Development agency, you can expect to spend around $20,000 - $120,000 for the first working version for one platform (iOS).
If you would like to feature more functionality or create an app of greater complexity, be able to spend extra money. The telemedicine app cost can go even beyond $330,000 per platform if you choose to work on a very complex and feature-rich solution. Kindly note, that this price includes a doctor app, and an admin panel for a single platform (iOS or Android), at an hourly rate of $40 (average development rate in Ukraine). The timeline for this development varies from approximately 2 to 5 months.
Why Choose White Label Telemedicine
Having served in more than 35 countries globally, At Telemedicine APP Development Solutions, we are committed to providing digital solutions to our clients to improve their business and stay ahead of the curve in this fiercely competitive market. We assist you to require your business online and expand your market reach. We are experts in website and mobile app development for online pharmacy, telemedicine, diagnostic / lab appointment system, health-related businesses, online marketing, and lots of more. We are expertise in healthcare which enabled us to make more than 40 applications and websites for healthcare services.
We've had the experience of quite ten years within the healthcare IT domain, and hence we are conversant in every aspect of this business. We can help our clients with a good range of options available. Moreover, our software is easy to use and bug-free. This is why our wide selection of clients has endowed us with unparalleled trust because they're fully satisfied with our products. Besides, we have worked with local clients as well as foreign clients who have made us proficient in local as well as overseas Healthcare markets.
Also read about:
Pick The Right Contractor For Kitchen Renovation
NEVER BELIEVE THESE 6 MYTHS ABOUT PRINTING BOX
How A Well Designed Chinese Food Boxes Promotes Your Business